Well Being at The Cove at Fairview
Vacations are a great time to unwind and nourish yourself. Take in a yoga class, or get a massage in your rental home. Explore the options below.
Covid-19 Update: Business hours and availability may have been adjusted for safety. Please contact the business about their hours and current limitations. We also take safety measures.
---
Spa Services
Relax and Recharge with a massage at your rental house! 
Massages for $75/hr (License #9484).   
$125 for an hour and a half Deep Healing Massage. A unique combination of different modalities and healing traditions. 
Contact us to arrange.
There are other spa/massage options locally:
Asheville Salt Cave – Relax in the Salt Cave while getting a massage. ashevillesaltcave.com
Secret Spa – A full-service salon. http://thesecretspa.com/ (828) 225-3222
Still Point Wellness – Esalen massage and saltwater flotation spa. stillpointwell.com/ (828) 348-5372
Virtu – Enjoy a first-class facial at Virtu. www.virtuasheville.com (828) 367-9099
---
Yoga Classes
Renew yourself with a Yoga class.
---
Gyms
Workout at the Gym.
---
Or… Just Relax!
Relax by Koi Falls, or take a stroll around our hobby farm. The animals love to be feed carrots!
More From Our Blog
Keep up-to-date with local restaurants, events and more. Here some recent updates!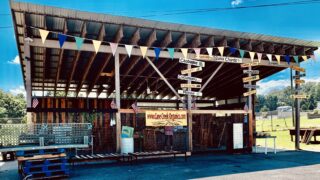 Cane Creek Valley Market is a nearby vegetable stand. Marietta says that their heirloom organic tomatoes are possibly the best tomatoes that she has ever
Read More »